Sonora Pass Vacations
HOME
Lodging and Camping
Recreation Areas
Outdoor Recreation
Sightseeing:
Events
Services
Winter Activities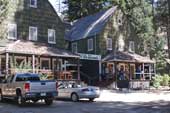 Old Kennedy Meadows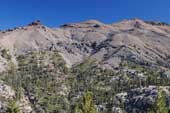 Night Cap Peak
Kennedy Meadows
More Than 100 Years of Tradition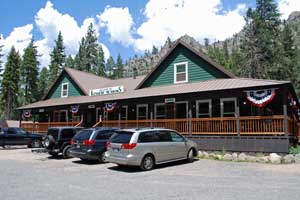 Kennedy Meadows has been a gathering place for people of varied recreational interests for more than a century. The combination of the campgrounds, the resort, and the pack station - all three spread along the bank of the Stanislaus River - creates a special ambiance hard to find anywhere else in the Sierra. Kennedy Meadows is a crossroad for horseback riders and fly fishermen, backpackers and hunters, photographers and campers - all mixing together in a friendly exchange, everyone enjoying the tranquility of the mountains.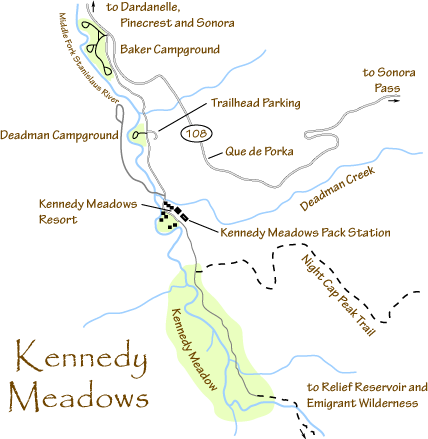 Fishing and Hiking near Kennedy Meadows
Fishing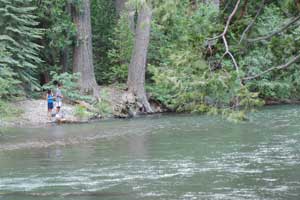 Fishing is excellent along the Middle Fork of the Stanislaus River for rainbow, brook, and brown trout. Fishing is usually best beginning in mid-summer when the heavy spring runoff has settled down. The meadow area south of the resort is especially popular with fly fishermen. It is also a great place to take children to introduce them to fishing.
Check our fishing map for the best locations for fishing around Kennedy Meadows. A little walking can take you to sections of the river overlooked by most anglers.
Adventurous anglers can set out from Kennedy Meadows in morning and work their way up to Relief Reservoir or Kennedy Lake, fishing the steams along the way. The Kennedy Meadows Pack Station can arrange to take you into some of their favorite fishing places in the Emigrant Wilderness and leave you at a base camp for a day or two - or even a week - to fish and then pick you up again at on a designated day.
Hiking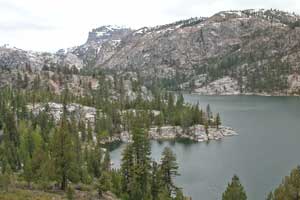 Hiking from Kennedy Meadows usually means heading into the Emigrant Wilderness. A day hike up to Relief Reservoir is rewarded with spectacular scenery along the way, including waterfalls, abandoned machinery from the dam building years, and soaring mountain peaks. Fishing at Relief Reservoir is good in the early morning or evening. Exploring the dam is an interesting side-trip.
Thomas Winnett's Sierra North has long been the best guide to backpacking in the northern Sierra Nevada. This 9th edition written with Kathy Morey and others covers the entire Emigrant Wilderness along with many other popular hiking areas in the northern Sierra.
The Night Cap Peak Trail leads out from a point just south of the resort, but this 3.5-mile trail is not recommended for inexperienced or solo hikers. It climbs 2000 feet over a shoulder of Night Cap Peak before descending to meet the Kennedy Lake trail.
The hike to Kennedy Lake is really an overnight trip, but ambitious hikers could make the loop in a day. It is about 7 miles to the lake with 1,500 feet of elevation gain. Near the lake are a pair of old log cabin. Views of Kennedy Peak and surrounding mountains are spectacular.
For an extended Emigrant Wilderness outing, try Emigrant Lake, 14 miles from Kennedy Meadows. The lake makes a great base camp for fishing nearby lakes such as Huckleberry Lake, Buck Lakes, and Long Lake.

High Sierra Trails
A Backpacker's Guide to the
Most Spectacular Trails
in the Sierra Nevada
Kennedy Meadows Resort
Kennedy Meadows Resort draws visitors from all over California and Nevada, in large part because of its proximity to so many recreation opportunities. Located 57 miles east of Sonora on Highway 108, Kennedy Meadows Resort is open from late April until early October. A fire several years ago burned the original resort, but it was rebuilt and open for business within a year. The resort is spread along the banks of the Middle Fork of the Stanislaus River.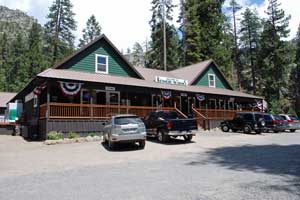 The Kennedy Meadows Resort store sells basic groceries, camping supplies, and fishing supplies. The Kennedy Meadows Restaurant offers caf+ style dining for breakfast, lunch and dinner, 7 days a week. Reservations for dinner are recommended on weekends. The Saloon at Kennedy Meadows sells beer, wine and liquor. The Saloon is open 7 days a week from 11:00AM until closing time.
Kennedy Meadows Resort has an eclectic collection of cabins for rent, ranging from simple sleeper cabins to two-story structures that can sleep up to 11 people.
Kennedy Meadows Pack Station
Located at Kennedy Meadows the Kennedy Meadows Pack Station is at the edge of the Emigrant Wilderness, a vast mountain area full of recreation opportunities. The pack station offers both day trail rides for an hour, a half day, or all day. They also provide pack animals and wranglers for extended pack trips.
2021 - Horse Camp
A 5 or 6-day horse camp for youths with minimal riding experience or with riding camp experience from previous years. Improve riding skills, learn about packing mules, wilderness cooking, and back country camping.
2021 Schedule
Camp A - For those with minimal riding and camping experience or are younger than about 13 years old: June TBA, 2021. Includes an overnight camp out.

Camp B - For those who have been to camp before or have a lot of horse experience, June TBA, 2021. The camp includes a 2-night overnight trip to a backcountry lake.

Find all the Horse Camp details at Kennedy Meadows Resort and Packstation.
Summer Contacts for Kennedy Meadows Pack Station:
(209) 965-3911 or (209) 965-3900
To learn more about their rates and destinations, see Pack Stations
Historic Sites
The Sonora and Mono Wagon Road
The old Sonora and Mono Wagon Road followed much the same course as Highway 108 does today along the Middle Fork of the Stanislaus River Valley from the Clark Fork turnoff to Kennedy Meadows. Few remnants of the old road are visible here, except for the stone bridge abutments on the Stanislaus River at Dardanelle. Up the pass from Kennedy Meadows the road passed through a narrow gap known as Que de Porka. It has since been widened. Farther up the pass long sections of the old wagon road can be seen.
Kennedy Meadows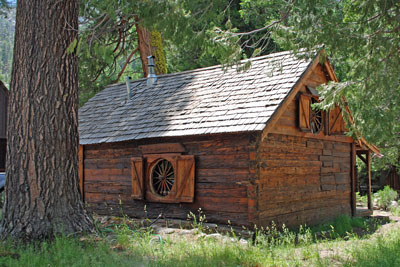 Kennedy Lake and the land around Kennedy Meadows were claimed by Andrew Thomas Kennedy of Knights Ferry and William E. Lutz in the mid-1880s. Kennedy built a cabin, which still stands today, where the resort is now located. The cabin was restored in 1988 by Pat Casey. The original Kennedy Meadows lodge was erected in 1917. It burned down during the winter of 1940-1941, to be replaced by the classic building familiar to so many until it also burned to the ground in 2007. Today's resort was completed in 2008.
Baker Station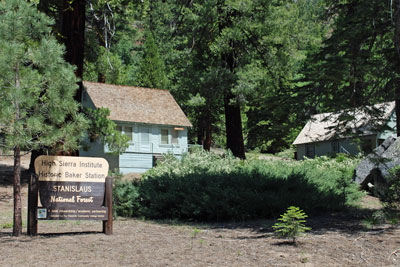 In the 1880s Greenbury C. Baker from Sonora opened what he described as a "Summer Resort" at Baker's Station, just a half mile back down the highway from the Kennedy Meadows turnoff. Baker offered accommodations to individuals or families for a day, a week, or a month. The hostelry was used mostly by people crossing the pass on the wagon road. By 1890 snow had collapsed the original buildings. Later the site was turned into a highway maintenance station. Today Baker's Station is used by the High Sierra Institute in partnership with Yosemite Community College. The Institute has hosted classes such as cartography, geology, yoga, and creative writing. Recent work has upgraded several of the cabins and the restrooms.
Campgrounds
Baker Campground
Baker Campground is a popular campground in the summer. With the Stanislaus River at their doorstep and Kennedy Meadows Resort within easy walking distance, Baker Campground makes a great place to park your Recreation Vehicle or set up a tent. They have 43 sites which cost $20 per night for a single site. Baker Campground has piped water and vault toilets. It is on a first-come, first-served basis.
Deadman Campground
Deadman Campground is situated next to the Middle Fork of the Stanislaus River along the Kennedy Meadows road. Its beautiful setting among the trees makes it a favorite camping destination for many. Kennedy Meadows Resort and the Emigrant Wilderness are both within walking distance. It is on a first-come, first-served basis. The 17 sites at Deadman Campground cost $20 per night for a single camp site. The campground has piped water and vault toilets.