2017 Weekly Visitor Activities, Pinecrest Lake
Campfire Programs, Junior Rangers, Nature Walks, Local History
Ranger led outings and Campfire Programs at Pinecrest Lake are under the direction of the Three Forest Interpretive Association (3-FIA). 3-FIA is a non-profit, educational organization that serves the Stanislaus National Forest, conducting campfire programs, the Junior Ranger program, and nature outings or activities related to local history. They suggest a $1.00 donation per person for some of their events. All donations directly support their interpretive programs. Other events may require a materials fee, which is noted below.
Daytime Programs
Mondays
Junior Rangers
2:00 PM to 3:00 PM, June 26 - August 7
Pinecrest Amphitheater
Hands-on activities to introduce children ages 4 - 104 to the world we live in and how to care for the outdoors. See map below for location of amphitheater.
Tuesdays
Tall Tales and Silly Songs
10:00 AM to 11:00 AM; June 27 - August 8
Pinecrest Amphitheater, $2.00 donation
An enjoyable hour of interactive songs with Bill Roberson and his storytellers Cynthia Restivo, BZ Smith or Jennifer Aguirre.
Critters, Conifers, and Clay
11:00 AM - 12:30 PM; July 4, 11, 18, 25
Meet next to Pinecrest Amphitheater, $10 Materials Fee
Learn about forest animals and plants by making clay projects. Children under 7 must be helped by an adult.
Space limited.
Wednesdays
What's Buggin' You?
10:00 AM to 11:30 AM; June 28 - August 9
Pinecrest Chalet, about 1 mile up the Dodge Ridge Road.
$5 Materials Fee
Children and their parents learn about aquatic ecosystems. Also print a T-shirt with molds and stamps of creatures found in an aquatic ecosystem. See map below for location of Pinecrest Chalet.
Thursdays
Me-Wuk Lifeways
10:00 AM - 11:00 AM, June 29 - August 10
Summit Ranger Station
Carlos Geisdorf, a Tuolumne Band Me-Wuk, will share stories and lessons from his cultural heritage.
Bring a chair if you like.
Fridays
Trees and Trails
9:00 AM to 1:00 PM, June 30 - August 11
Summit Ranger Station
Learn about the wisdom of nature on ranger led adventures in the forest. Program lasts from 2 to 4 hours. Gas up your car, pack a lunch, water, and wear good walking shoes. For information on this week's destination, call the Summit Ranger Station (209) 965-3434.
Woodsy Owl's Curiosity Club
2:00 PM to 3:00 PM; June 30 - August 11
Pinecrest Amphitheater
Learn about Woodsy Owl and exciting ways you can "Lend a hand - care for the land!"
Ages 4 - 104
Saturdays
Nature Crafts
2:00 PM to 3:00 PM, July 1 - August 12
Pinecrest Amphitheater
Make a beautiful art project using natural gifts such as cones, leaves, and rocks.
Ages 5 - 105
Sundays
Nature Detective
2:00 PM to 3:00 PM, July 2 - August 13
Pinecrest Amphitheater
Learn to be a Nature Detective by searching for clues in the forest.
Ages 4 - 104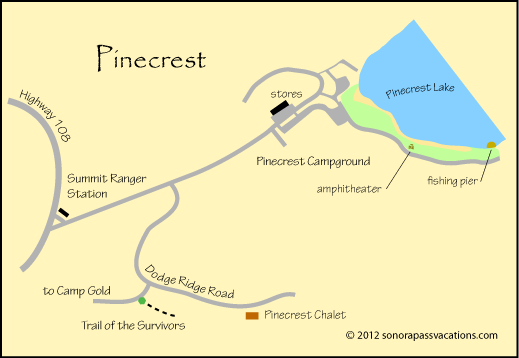 Pinecrest Amphitheater Evening Programs
Besides the Monday and Wednesday night programs, join rangers on other movie nights at 8:00 PM for a lively 15-minute program before the movie. Topics are always a surprise.
Monday and Wednesday Night Programs
Monday, July 3
Snakes Alive!
6:00 PM
Learn about reptiles in the area from Mike Sutton. He brings his living showcase of reptiles to view and touch.
Wednesday, July 5
Wild Things
7:00 PM - 8:00 PM
Rescued California birds and mammals - learn about their care and how to allow wildlife to remain wild. ($2.00 donation)
Monday, July 10
Songs and Tales from the Fire Line
8:30 PM - 9:30 PM
The Forest Service Balladeers capture the excitement of firefighting in an evening of songs and stories. ($2 donation)
Wednesday, July 12
Tales of the Mother Lode
7:00 PM - 8:00 PM
Listen to Hard Luck Lin spin her tales of life during the Gold Rush. ($2 donation)
Monday, July 17
Water - the Real Gold
8:30 PM - 9:30 PM
Interpretive Ranger Scott Skatell explains how water has played a roll through the years and why it is such a precious resource.
Wednesday, July 19
Friendly Fire
7:00 PM - 8:00 PM
Hear the story of a 49er in 1851 and his new appreciation of the Me-Wuk world and his struggle to deflect catastrophe.
($2 donation)
Monday, July 24
Crandall in the Hole
8:30 PM to 9:30 PM br /> Learn about the days when railroad logging was king of the mountains.
Wednesday, July 26
Songs and Stories of the Sugarpine Railroad
7:00 PM - 8:00 PM
The Forest Service Balladeers offer an evening of stories and songs about days gone by when railroad logging was kind of the mountain. ($2 donation)
Monday, July 31
Stories in Stone
8:30 PM - 9:30 PM
Learn about local, cultural history through photo archives and stories in a family campfire setting with Interpretive Ranger Shawn Interpretive Ranger Shawn
Wednesday, August 2
Tuolumne Band of Me-Wuk Singers and Dancers
7:00 PM - 8:00 PM
Me-Wuk tribe members share their cultural traditions through song and dance. ($2.00 donation.)
Monday, August 7
Batty About Our Insect-Eating Friends
8:30 PM - 9:30 PM
NorCal Bats offers a program about the importance of bats in our environment. Learns about facts and myths surrounding bats. See live bats.
($2.00 donation.)
Wednesday, Aug. 9
Python Ron
7:00 PM - 8:00 PM
Ron McGee shares his knowledge about reptiles. ($2 donation)
Star Gazing at Bald Mountain
2017
Staffing and budget contrainst have prompted Stanislaus Nation Forest to concel the annual star gazing events they used to host every summer at the heliport on Bald Mountain.