Fly Fishing, Spin Casting, Bait Fishing
Where to Go to Land the Biggest Trout
1. Pinecrest Lake
Some of the best fishing around Sonora Pass is found at Pinecrest Lake. Anglers of all experience levels find easy access to the water, an abundance of "catchable" fish, and the convenient availability of resources such as a sports shop selling bait and tackle, a free boat ramp, a marina with boats for rent, and fish cleaning facilities. These make Pinecrest Lake a clear winner as the number one fishing destination along Highway 108. A round-the-lake trail provides great access to the entire shoreline. And a concrete fishing pier with a safety railing provides a great place for kids to fish.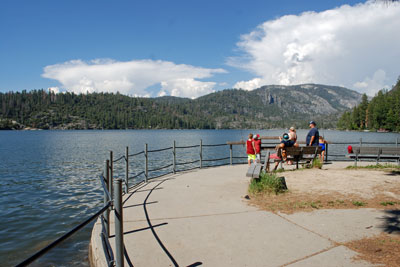 2. Beardsley Reservoir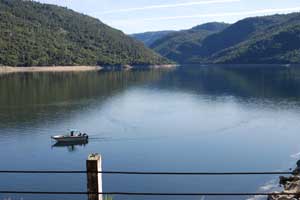 Boaters and shore fishermen alike appreciate Beardsley's deep waters and rich supply of trophy-size fish. A boat ramp and excellent facilities make the lake a great place to fish from boats. A campground is located on the north shore. A lake-front picnic area and swimming beach add to the attraction of Beardsley.
Learn more about fishing around Beardsley Reservoir on Dave's Sierra Fishing at Fishing Beardsley Afterbay.
3. South Fork Stanislaus River at Strawberry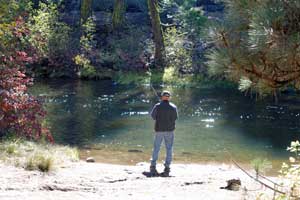 Anglers have been trying their luck and walking away with smiles here since the mid-1800s. Known for its great fly fishing and productive waters, the 5-mile stretch of the Middle Fork of the Stanislaus River between Pinecrest Lake and Fraser Flat ranks as some of the best fishing water along the Sonora Pass highway corridor.
Learn more about fishing the Stanislaus River on Dave's Sierra Fishing at Fishing the South Fork of the Stanislaus.
4. Clark Fork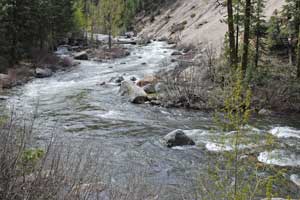 The Clark Fork of the Stanislaus River draws eager fishermen every summer. The Clark Fork Road runs parallel to the stream, providing easy access to the water in some places. At other points along the road the stream is a good distance from the pavement and requires a little adventurous hiking. Beyond the end of the road at Iceberg Meadow, anglers find enjoyable fishing in the pools upstream from the meadow.
Learn more about fishing the Clark Fork on Dave's Sierra Fishing at Fishing the Clark Fork.
5. Lyons Reservoir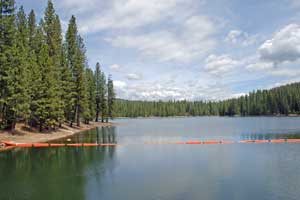 Originally built to supply miners with water for the claims, Lyons Reservoir offers excellent fishing from the shore. Boating and swimming are prohibited at Lyons Reservoir. You'll find rainbow and brown trout. Fishing the river upstream from Lyons Reservoir is excellent. Vault toilets are available at a day-use parking area. The road to the lake is open dawn till dusk from May 1 until November 1.
6. Emigrant Lake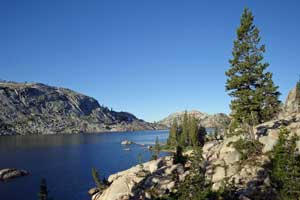 You'll need to put in a full day of hiking - or maybe two - in order to reach Emigrant Lake, deep in the Emigrant Wilderness; but your efforts will be rewarded with great fishing. Camping at Emigrant Lake places you close to other lakes such as Huckleberry Lake, Big Lake, and Buck Lakes are equally as good for fly fishing and spin casting.
For a map of the trail to Emigrant Lake and hiking information, see Kennedy Meadows to Emigrant Lake
7. Kennedy Meadows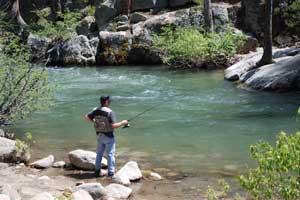 The upper reaches of the Middle Fork of the Stanislaus River are favorite fishing waters for campers at Kennedy Meadows and the Brightman Flat area near Dardanelles. Check our Kennedy Meadows fishing map for great spots to fish around the resort. Ten miles of river flow from above Kennedy Meadow to the confluence with the Clark Fork, all of it offering good fishing for rainbow, brown and brook trout. Access to the river is easy from Highway 108.
8. Donnell Reservoir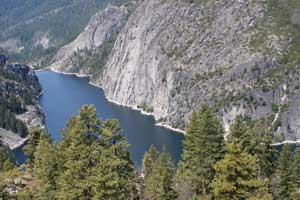 It's hard to reach and even harder to fish, but for those who make the effort, trophy-size trout await them. Donnell Reservoir is located in a steep rocky canyon about 5 miles upstream from Beardsley Reservoir. For a time in 2010-11 a landslide closed the windy dirt road to the lake, but it is now open again. Fences and rugged terrain make launching boats there very difficult. Some people manage to maneuver small, hand-launched craft down to the water. There are no facilities at the lake.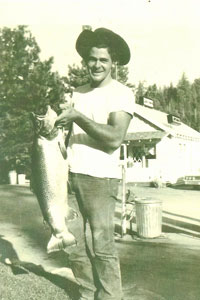 In October 1964 Robert Boggeri of Hughson landed a record 17-pound, 2.5 ounce German brown trout in Donnell Reservoir. Robert is shown left proudly displaying his catch in Strawberry. The fish measured 31.5 inches long. Anglers from that time remembered earlier catches of about 14 pounds, but nothing to match Boggeri's. He hooked the trout with an artificial minnow.
According to a Modesto Bee article about the catch, local shop owners Mrs. Robert S. Hunter from Strawberry and Kurt Hiser of Pinecrest agreed that Robert Boggeri's fish was the largest ever landed in Tuolumne County.
(Photo courtesy Louis Boggeri)
9. West Walker River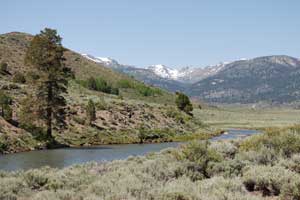 The West Walker River in Mono County on the east side of Sonora Pass is a fly fisherman's paradise. Open spaces make for easy casting. The river has rainbow, brown, and brook trout. The best fishing is in early summer as soon as the spring runoff has subsided.
10. Fremont Lake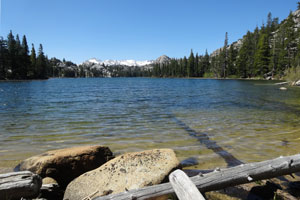 Located a day's hike into the Hoover Wilderness out of Leavitt Meadow, Fremont Lake makes a great overnight backpacking and fishing destination. The lake is well known for its superior fishing for rainbow trout.
Find out more about fishing at Fremont Lake at our sister site,
Dave's Sierra Fishing - Fremont Lake
TOP