Find Your Adventures on Sonora Pass
Pinecrest Lake is the most popular destination for vacationers along Sonora Pass. It has something to offer for nearly everyone. Families love Pinecrest for its sandy beaches and marked off swimming areas where children can frolic. Boaters enjoy the crystal waters of a mountain lake without the annoying buzz of jet skis.
Campers gather at Pinecrest Campground and nearby Meadowview Campground for relaxing days in the mountain air. Bike trails, outdoor movies and ranger programs, a fishing dock perfect for young children, and dozens of nearby places to explore on day-outings -- no wonder the campgrounds are so busy in the summer.
Pinecrest Lake is just one of many wonderful attractions up and down the Sonora Pass corridor. Twain Harte, Kennedy Meadows, Strawberry, and the magnificent Emigrant Wilderness are among other popular destinations.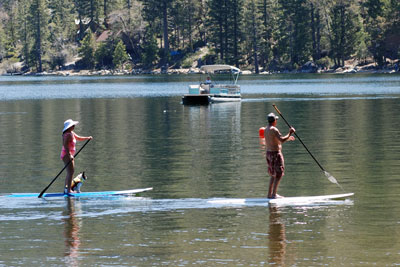 Backpacking, Day Hikes, Bicycling, and Mountain Biking
Backpackers migrate to places like the Emigrant Wilderness while day hikers find a host of rewarding trails from quarter-mile nature walks to the popular trail around Pinecrest lake to enjoying a stroll along old railroad grades. Bicycling is a favorite past-time along the gentle paths and streets of Pinecrest while more serious riders challenge themselves along Highway 108. Mountain biking is popular too in the hills around Pinecrest and logging roads around Twain Harte.
Fishing and Boating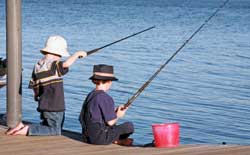 Experienced anglers know the great fishing at places like Pinecrest Lake, Kennedy Meadows, Beardsley Reservoir, the Stanislaus River, and the Clark Fork. Adventurous fishermen try the high country in the Emigrant Wilderness, the Carson-Iceberg Wilderness, or the Hoover Wilderness. Boaters enjoy the beauty of Pinecrest Lake and Beardsley Reservoir.
Fishing Boating
Camping along Sonora Pass
Wonderful campgrounds abound along the Sonora Pass Corridor. The most popular campsites are found around Pinecrest Lake and higher up the pass near Kennedy Meadows. Others campgrounds are tucked away in more secluded locations. A few specialized campgrounds are designated for those with horses or for OHV enthusiats.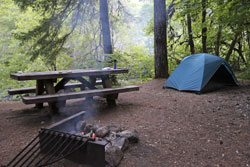 While most of the campgounds are first-come, first-served, a few such as Pinecrest Campgound accept reservations. Those feeling more adventurous can set off into the national forests and practice dispersed camping, bypassing the usual campground amenities in favor of more solitude.
Sonora Pass Vacations covers all the camping areas with complete information about each.
Campgrounds
Horseback Riding and Everything Else
Horseback riding is very popular all over Sonora Pass because of the great trails. Kennedy Meadows attracts many riding groups. Pack stations on both sides of Sonora Pass offer guided day rides and pack trips.
Sonora Pass is full of surprises like beautiful waterfalls, fascinating displays of unusual geology (such at the Columns of the Giants and the Trail of the Gargoyles), and the 3,000-year-old Bennett Juniper, the largest western juniper in existence. Along the Sonora Pass highway you can see remnants of the early Sonora and Mono Wagon Road and cross the historic wagon trail of the Gold Rush emigrants.
Skiing, Snowboarding, and Playing in the Snow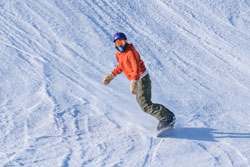 Dodge Ridge Ski Area draws skiers and snowboarders every winter to its exciting slopes. For those who prefer cross-country skiing, a web of Nordic ski trails are available close to Dodge Ridge Ski Area and Pinecrest. Snowmobilers like to head out to the Sno-Park at the end of the plowed section of Highway 108 just beyond Strawberry and set out into the high country. For playing in the snow you can visit Leland High Sierra Snowplay, enjoy Dodge Ridge's new Snow Tubing Hill, or just find a safe place to pull over and make a snowman. A vacation rental cabin makes a great base for families or groups who want to spend time at Dodge Ridge Ski Area or just hang around the cabin.
Dodge Ridge Ski Area
Dodge Ridge Ski Area has been a favorite with central California skiers for more than half a century. In more recent years snowboarders have discovered Dodge Ridge Ski Area's varied slopes and challenging freestyle terrain parks. With vacation rental cabins clustered in communities near Dodge Ridge Ski Area, visitors to the ski resort can find reasonably priced lodging to make a weekend at Dodge Ridge Ski Area affordable for family recreation. Dodge Ridge Ski Area lift tickets run a third less than at the Tahoe area ski resorts, and the experienced and friendly ski school make it an ideal destination for families and groups, beginners and experts.
Only a few miles from Dodge Ridge Ski Area is Leland High Sierra Snowplay, known to some as Leland Meadows. Leland High Sierra Snowplay offers a safe place for snow sliding with the convenience of a day lodge. Leland High Sierra Snowplay provides the sliding tubes and even has lifts for those who would prefer not to walk up the hills.
Dodge Ridge Resort
Leland High Sierra Snowplay