Sonora Pass Vacations
HOME
Lodging and Camping
Recreation Areas
Outdoor Recreation
Sightseeing:
Events
Services
Winter Activities
Sonora Pass & Campground Report
What is Open and What is Closed
Current Weather Conditions at Pinecrest Lake
Pinecrest Lake is at 5,600 feet of elevation. Weather conditions there reflect conditions at nearby Dodge Ridge, Strawberry, and Beardsley Reservoir .
For weather conditions around Kennedy Meadows and Dardanelle see Dardanelle.



Is Sonora Pass Open?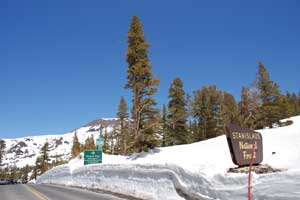 Highway 108:
As of November 21, 2018, Sonora Pass is CLOSED for the winter season.
On the western side of the pass the highway is closed 7.2 miles east of Strawberry and on the eastern side, at Highway 108's junction with Highway 395.
Check Caltrans Road Information for the latest conditions on Highway 108.
Only through traffic was permitted from Donnell Vista to Sonora Pass after the Donnell Fire. There was no stopping anywhere in that section, no leaving the pavement of Highway 108, except to turn off to Kennedy Meadows. The Forest Service reported on September 28, " Campgrounds and day use areas on Highway 108 east of Donnell Vista remain closed, but OHV recreation areas, trails and roads near Niagara Creek are now open to visitors." Get up to date closure information from the Stanislaus National Forest: News & Events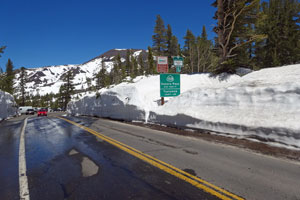 For the most current information on roads, check with Caltrans.

Call 1-800.427.7623 or visit the CalTrans website: CalTrans - Department of Transportation - Road Conditions. (Scroll down to SR 108.)
Sonora Pass usually remains open until the first heavy snowfall of the winter arrives. Often that occurs sometime in early November, but snow can temporarily close the pass at any time.
Traditionally the pass re-opens in mid-May, but once again, even after it opens, late season storms can cause it to close again. See the past opening dates shown below: Historical Conditions.
Campgrounds
Campgrounds Listed as OPEN December 3, 2018
With a storm due on November 21, it is likely that most of the campgrounds will be closed. It is always wise to confirm with a phone call to the Forest Service whether these campgrounds are open or closed.
Campgrounds Currently Listed as CLOSED - as of December 3, 2018
Baker Campground
Beardsley Dam Campground
Boulder Flat
Brightman Flat Campground
Clark Fork Campground
Clark Fork Horse Camp
Dardanelle Campground
Deadman Campground
Eagle Meadow Horse Camp
Eureka Valley Campground
Fence Creek Campground
Fraser Flat Campground
Herring Creek Campground
Herring Reservoir Campground
Hull Creek Campground
Kerrick Horse Camp
Leavitt Meadows Campground - call
Meadowview Campground
Mill Creek Campground
Niagara Creek Campground
Niagara OHV Campground
Pigeon Flat Campground
Pine Valley Horse Camp
Pinecrest Campground
Sand Bar Flat Campground
Sand Flat Campground
Sonora Bridge Campground
TeliLi puLaya Campground (Black Oak Flat)

Dodge Ridge Ski Resort: OPEN for the 2018-19 season
Leland High Sierra Snowplay: Opening Dec. 8, 2018 for weekends, then full operations Dec. 22

Kennedy Meadows Resort: Closed
Dardanelle Resort: Closed. Heavily damaged by the Donnell Fire, August 2018.
Roads and Recreation Areas (as reported December 2, 2018)
Lyons Reservoir Day Use Area - Open (closes annually Nov. 1 to May 1)
China Flat Day Use Area - Beardsley Reservoir Afterbay - Open
Crabtree Road - Closed
Crandall and Deer Creek OHV Area - Open
Herring Creek Road - Closed
Hull Creek - Trout Creek OHV Area - Open
Hunter Creek OHV Area - Open for limited use
Historical Conditions on Sonora Pass
Road Closures
Sonora Pass usually closes for the season in November when snow accumulates on Highway 108, making it unsafe for travel. Often the gates are closed first at Kennedy Meadows and Leavitt Meadows and then as lower snow falls, gates 6 miles east of Strawberry and at Pickel Meadow are closed for the season.
In the spring Sonora Pass is sometimes open for travel in April, usually by early or mid May. As with the fall closures, Highway 108 to Kennedy Meadows opens first, often in April, sometimes sooner.
Past Winter Closure and Spring Opening Dates for
Sonora Pass
| Winter | Sonora Pass Closed | Sonora Pass Open |
| --- | --- | --- |
| 1994 | | April 13 |
| 2004-05 | | May 28 |
| 2005-06 | | May 28 |
| 2006-07 | | May 11 |
| 2007-08 | December 10 | May 8 |
| 2008-09 | December 14 | May 14 |
| 2009-10 | December 1 | May 28 |
| 2010-11 | November 22 | May 27 |
| 2011-12 | January 21, 2012 | May 4 |
| 2012-13 | December 19 | April 24 |
| 2013-14 | December 9 | April 18 |
| 2014-15 | November 29 | April 17 |
| 2015-16 | November 28 | May 18 |
| 2016-17 | November 19 | June 13 |
| 2017-18 | November 13 | May 3 |
| 2018-19 | November 21 | |
For current road conditions the Department of Transportation website listed above is the best resource.
Snow Depths
Sonora Pass usually sees snow depths exceeding 100 inches during the winter. At Relief Valley, which is near Kennedy Meadows, snow levels in April, 2005 reached an average of 183 inches. Snow can reach as low as 2000' in the winter, but usually the snow line is about 3500'.