Sonora Pass Vacations
HOME
Lodging and Camping
Recreation Areas
Outdoor Recreation
Sightseeing:
Events
Services
Winter Activities
Sonora Pass Beaches, Swimming Holes, and Pools
Swimming Caution
The waterways in the Sierra Nevada can be dangerous, especially in the spring and early summer when river flows are high and water temperatures are very cold. Children should wear life jackets when playing near rivers and should never be left unattended. Swift currents can sweep even the strongest swimmers beneath rocks and trap them there. Any swimming in rivers should be done with the utmost caution and only at times and places where the conditions are safe.
Pinecrest Lake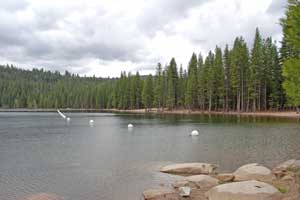 One of the most popular swimming places around Sonora Pass is Pinecrest Lake. The lake has a sandy beach and a roped off swimming area, making it one of the safest and most enjoyable places for swimming and wading. There is no life guard on duty, however. The water can be quite cold in the early summer. The swimming area is adjacent to the marina and the picnic grounds with access to restrooms and a summer snack shack. The day use area is open from 6 am to 10 pm.
Twain Harte's County Swimming Pool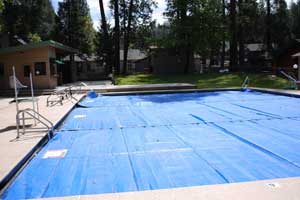 The Twain Harte public swimming pool is another of the favorite swimming places around Sonora Pass. The pool is located at 23075 Fuller Road (behind the Post Office) in the town of Twain Harte. It is operated by Tuolumne County Department of Recreation. It is open for recreational swimming Monday through Saturday from 1:00-5:00 pm; Family Nights: Friday 7:30 pm-10:00 pm; and Saturdays 6:00 pm-9:00 pm.
Fees for children (3-13) are $2.00; for teens (14-17), $2.25; for adults (18-54), $2.75; seniors (55 and up), $2.00. There are reduced rates for packets of 25 tickets. Children under 3 are free with a supervising adult. A non-swimming adult is free when accompanying a paying child. Family Night Family price $7.25 for two adults and up to 5 children.
Twain Harte Lake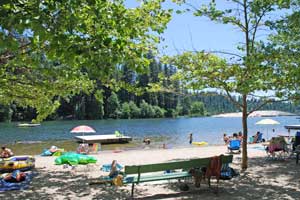 Twain Harte Lake is owned by the Twain Harte Lake Association, an organization of local home owners. The 7-acre lake is surrounded by 56 acres of land. Twain Harte Lake is popular because of its long sandy beach, beautiful setting, and supervised swimming area. Lifeguards are on duty. The lake also has a water slide and diving boards on swim platforms. Along the shore are children's swings, a snack shop, and restrooms. Children under 16 years of age can catch up to 3 fish a day in the stocked lake.
Twain Harte Lake opens to members and guests on Memorial Day weekend and closes Labor Day weekend.
The lake is only open to association members and their guests. A waiting list to join the association exists. However, by renting a cabin owned by a member of the association, you can obtain guest passes to use the lake.
Beardsley Reservoir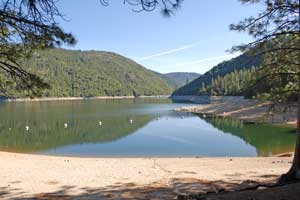 Beardsley Reservoir has a dedicated swimming area roped off from the lake with buoys. A sloping, sandy beach offers plenty of room for sun bathing and activities. The Beardsley picnic area is next to the beach. There are flush toilets and a nature trail. To reach Beardsley, drive 3.7 miles east of Strawberry and turn left onto the Beardsley Reservoir Road. Follow it 8.5 miles to the picnic area on the south shore at Beardsley Point.
Cleo's Bath
Cleo's Bath is an unofficial swimming hole on the South Fork of the Stanislaus River several miles upstream from Pinecrest Lake. To reach it, circle to the far side of Pinecrest Lake on the trail and then turn upstream 1.3 miles. A use-trail appears at first but soon deteriorates and at times may be difficult to follow. Watch for a variety of trail markers. Near the end, a steep scramble brings you to a series of pools. Those using Cleo's Bath do so at their own risk.
For more about Cleo's Bath, watch the video on YouTube: Cleo's Bath.