Long Barn Ice Skating Rink
Hours, Rates, Skate Rentals
Long Barn ice skating has become a popular tradition in Tuolumne County. The skating season usually runs from November through March. This year they are scheduled to open November 17, 2017.
Please phone ahead for groups of 20 or more. Private party rink rentals available. Special rates for school skate trips.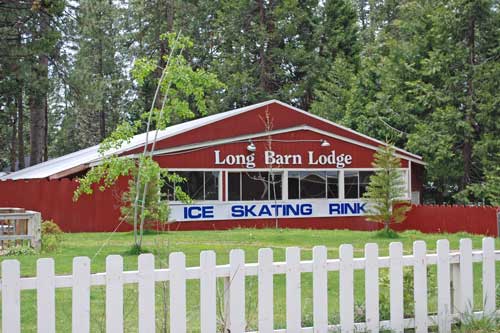 Public Skating Hours
Friday - Saturday 10am-9pm
Sunday 10am-6pm
Monday 10am-3pm
Tuesday Closed
Wednesday 10am-5pm
Thursday 10am-3pm
Holdidays and holiday weeks 10am-9pm
(no charge to watch)
Rates: Skating: $11.00 Skate Rental: $3.00
Special Group Ice Skating Events
The Long Barn Ice Skating Rink is available for a variety of group sessions. Birthday parties, school or church outings, or after hours skate parties are all possible. To bring groups of 20 or more, be sure to call ahead.
For information or to book group ice time, please call
(209) 586-3533 or 1 800 310-3533
Website: Long Barn Lodge