Sonora Pass Vacations
HOME
Lodging and Camping
Recreation Areas
Outdoor Recreation
Sightseeing:
Events
Services
Winter Activities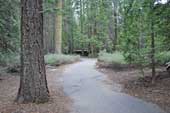 Bike and Walking Path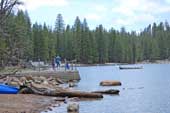 Pinecrest Fishing Dock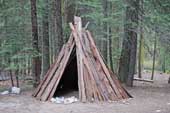 Trail of the Mi-Wok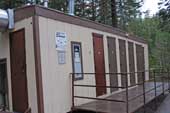 Pinecrest Showers
Pinecrest Lake
Fishing, Boating, Camping, Swimming, Hiking, Outdoor Movies
Pinecrest draws thousands of visitors every year, but it still retains its friendly, small community atmosphere that has made it a favorite vacation destination for generations of families.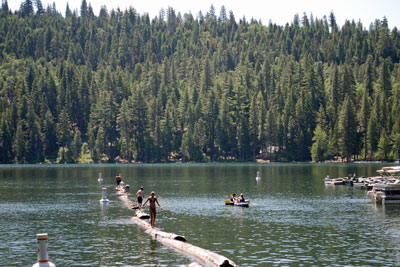 Thirty miles east of Sonora in Tuolumne County, California, Pinecrest Lake and its surrounding community are easy to reach via uncrowded Highway 108 in summer and winter.
Pinecrest Lake is well known for great fishing and boating, a friendly marina and free boat launching ramp, a fishing dock, sandy beaches and roped off area for swimmers. A 20 MPH speed limit on the lake and restrictions against water skiing and jet skis help to maintain Pinecrest Lake's tranquil atmosphere. At an elevation of 5,616 feet, 30-acre Pinecrest Lake is high enough to remain balmy and comfortable even during the heat of summer.
2019 Happenings at Pinecrest Lake
Outdoor Movies, Campfire Programs, and Ranger Activities
Pinecrest Lake Upgrades for 2017 - 2019
Work on improving parking and roadways around Pinecrest Lake begins this fall and will continue through May 2019. Work will halt during the winter when conditions prohibit and during the summer recreation season. All improvements are being funded by PG&E under their license to operate Pinecrest Reservoir as part of the Spring Gap Hydroelectric Project.
Day Use Parking Areas - The parking lot next to the snack shack will be first on the list. Then overflow parking areas will be improved.
Lakeshore Avenue and Lakeshore Drive
Pinecrest Avenue and Pinecrest Lake Road, creating a bus parking area and long-term boat trailer parking.
For details, visit P G & E's website, Pinecrest Recreation Area Update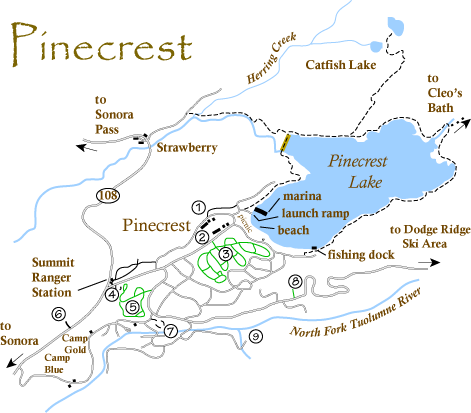 Pinecrest
Pinecrest Cabins
Most of the cabins in Pinecrest were built in the mid-1900s. They retain the rustic look of old lodges and mountain retreats with their dark wood exteriors and stone fireplaces, but many have been remodeled and updated with modern amenities to provide comfortable living. The cabins are scattered along winding streets within easy walking distance of Pinecrest Lake. A few cabins front the lake.
Because the cabins are on Forest Service land there are strict limitations on the amount of time each year that any cabin can be rented.
For more information about renting a vacation cabin, see Vacation Cabin Rentals
Pinecrest Marina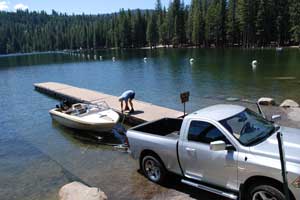 The Pinecrest Lake Marina is open from 6 am to 8 PM during the summer and 8 am to 6 PM during spring and fall. They rent aluminum fishing boats with outboard motors. The boats hold five people.
The Pinecrest Lake Marina also rents paddle (pedal) boats, which hold up to 4 people. Kayaks (both single or double seaters) are available. Rates are cheaper if the boats are rented for longer times.
Sunfish sailboats can be rented by the hour or for a half day of sailing on Pinecrest Lake. Two sizes of pontoon "partyboats" are available. They hold from 10 to 15 people.
Temporary boat slips are available to rent by the night, week or month.
Pinecrest Lake Resort Marina Rates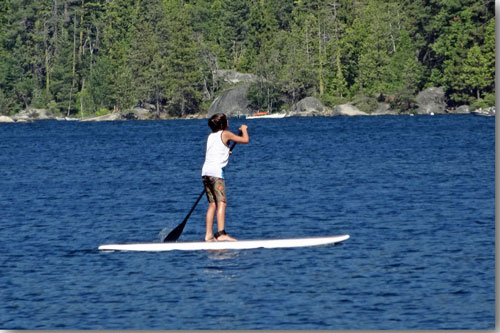 Pinecrest Resort
Pinecrest Lake Resort has a variety of lodging facilities available, including motel rooms, cabins, and townhouses. Each cabin has a full kitchen and bathroom.
Pinecrest Lake Resort townhouses are available in a two bedroom layout, sleeping six people or with three bedrooms sleeping 8 people. Each unit has a full kitchen. Townhouse living rooms are complete with cable television, propane fireplace and couch.
For more information about Pinecrest Lake Resort, see Lodges, Inns, and Resorts
Pinecrest Lake Amenities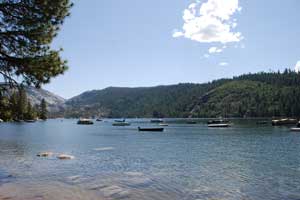 Picnic Area - A large picnic area with 50 tables shaded by trees is adjacent to the swimming beach on the west end of Pinecrest Lake.
Bicycle Rentals - The Hub, near the stores in Pinecrest, rents bicycles for $8 an hour for children, $10 for adults. All-day rentals run $30 and $35. The Hub also rents bikes for just about any time range. They rent strollers and bike trailers.
Amphitheater - The amphitheater, located next to the picnic area, is used for Ranger programs, outdoor movies, and Sunday church services.
Fishing Dock - The fishing dock is on the southwest corner of the lake, providing a safe area for children to try their luck catching rainbow trout.
Stores - A cluster of stores just west of the lake include a grocery, post office, sporting goods, coffee kiosk, the Steam Donkey Restaurant, and bicycle rentals.
Art Gallery - The art gallery is upstairs above the Pinecrest Lake Resort office next to the bicycle rental area.
Hot Showers - $5 at the facility next to the Pinecrest Store.
RV Waste Disposal - located at the dump, off Highway 108, a half mile west of the Summit Ranger Station.
Visitor Activities and Campfire Programs Coming in late May
2019 Pinecrest Visitor Activities and Campfire Programs Schedule
Pinecrest Lake Campgrounds
Pinecrest Campground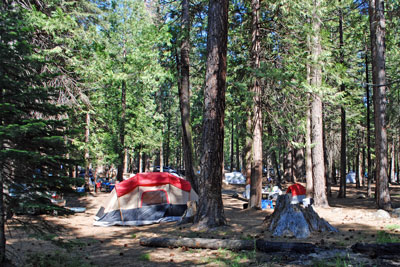 Pinecrest Campground is located within easy walking distance of Pinecrest Lake. The campground has 22 tent-only sites and 175 tent or RV sites. Reservations are strongly recommended (877-444-6777). Typical Pinecrest Campground campsite facilities include a paved parking pad, picnic table and fire ring. The majority of the sites are forested. Bathrooms have flush toilets, sinks and a utility sink.
No RV hookups area available. There is a dump station available and water supply. The campground has water faucets with potable water.
Cost: $26 per night
Meadowview Campground
Meadowview Campground is located about a mile from Pinecrest Lake on Dodge Ridge Road. A paved walking/bicycle path connects Meadowview Campground with Pinecrest Campground and Pinecrest Lake. Meadowview Campground campsites have paved parking pads, picnic tables and fire rings. the campsites are scattered through forested area. Bathrooms have flush toilets, sinks and a utility sink. They have 13 tent-only sites and 84 tent or RV sites. No RV hookups area available. The campground has water faucets with potable water. It is a first come, first served campground.
Cost: $23 per night.
Pioneer Trail Group Campground
Pioneer Trail Group Campground is located about a half mile from Pinecrest Lake by dirt trail and two miles by road. Pioneer Trail Group Campground is perfect for groups from 50 to 100 people.
Pioneer Trail Group Campground is divided into three shaded group areas. No hook-ups or electricity available. Campground reservations are required during the summer months.
Fishing and Hiking at Pinecrest Lake
Fishing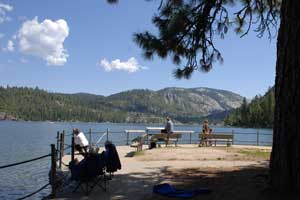 Fishing is excellent in Pinecrest Lake from boat or shore. The lake is planted regularly with rainbow trout. Other good fishing places nearby include the South Fork of the Stanislaus River as it runs from Pinecrest Lake down through Strawberry and on down toward Lyons Reservoir. Other nearby fishing destinations include Catfish Lake and Herring Creek Reservoir. Beardsley Reservoir is only a few miles away.
For more campground information, see Fishing
Hiking
The 4-mile hike around Pinecrest Lake is the most popular in the area. New restrooms and picnic tables have been installed at the east end of the lake.
Paved bike and walking trails connect the lake with Pinecrest Campground and Meadowview Campground. The EcoTrek hike begins at the entrance kiosk to the Pinecrest Campground. You can purchase a map of the trail for $1 there at the kiosk.
Other walks include the Shadow of the Mi-Wok Trail, which begins across the road from the Summit Ranger Station and the Trail of the Survivors, which is found on the road to Camp Gold, which intersects the Dodge Ridge Road near Meadowview Campground.
Cleo's Bath is a series of natural pools about 1.3 miles upstream from Pinecrest Lake. To reach Cleo's Bath, follow the lake trail around to the far end of the lake and turn upstream onto the Cleo's Bath use-trail. In places there are scant trail markers and no actual trail. It is a strenuous hike with some clambering over rocks. It takes about 2 hours to reach Cleo's Bath. Use extreme caution whenever entering the water; strong currents and rocks are hazardous.
Catfish Lake is more of a marsh now than a lake, but it makes for a nice day hike. From the marina hike toward the dam and then turn off on the trail to Catfish Lake. The 2.2-mile hike climbs a moderate 400 feet in elevation. (See below under Historic Sites for more about Catfish Lake.)
Historic Sites
Tuolumne County Water Company Reservoirs
Pinecrest Lake was originally known as Strawberry Lake. It was built in the 1850s to store water that was later delivered by ditch from a reservoir downstream to mining operations around Sonora. A series of higher reservoirs were added soon after the Strawberry dam was built. Catfish Lake and two others near it were part of the system. Two large reservoirs upstream from Pinecrest Lake were established. By hiking up the South Fork of the Stanislaus Reservoir from Pinecrest Lake you can find the remnants of the early dams. There is no established trail, however.
The Walker River Emigrant Trail
During the Gold Rush years emigrant wagons came over the mountains south of Sonora Pass and wound their way down over nearby Burst Rock and then along the top of the ridge at Dodge Ridge Ski Area and down across the North Fork of the Tuolumne River. From there the emigrant trail led through today's Camp Gold and up onto the ridge which next to Highway 108. Logging operations have obliterated any remnant of the trail, however.
For more about the history of the trail and its emigrants, read Sonora Pass Pioneers by David H. Johnson, available for purchase at the Summit Ranger Station.
Nearby Lodging
Pinecrest Chalet
The Pinecrest Chalet, located on the Dodge Ridge Road near Pinecrest, is now owned by the Cal Alumni Association (University of California at Berkeley). The resort is on the banks of the North Fork of the Tuolumne River. The Pinecrest Chalet offers 1 to 4 bedroom chalets, prices ranging from $75 to $375 per night. The chalets have kitchens and televisions, fireplaces, and BBQs.
Strawberry Inn
Strawberry Inn is located on Highway 108 in Strawberry. It provides rooms for rent, dining, and banquet facilities. It was established in 1939. Knotty pine, a stone fireplace, and an excellent collection of paintings, sculptures and woodcarvings decorate the Strawberry Inn, providing an accent to an already beautiful setting.
Across the highway from the Inn is the Strawberry Store which offers basic groceries and fishing supplies.
For more information about the Pinecrest Chalet and the Strawberry Inn, see
Lodges, Inns, and Resorts
Private Camps
Camp Sylvester
Located on the Dodge Ridge Road, Camp Sylvester is a private, non-profit, charitable camp which can be rented by a variety of organizations, including Scouts, Church Groups, schools and colleges, large family gatherings (reunions), 4H Clubs, Rotary, or just a gathering of friends. You can rent just a single cabin for an intimate family gathering or the entire facility for a large group retreat.
It is open year-round and has meeting halls, heated cabins, restroom and showers, and commercial grade kitchens. It also has an amphitheater stage, BBQ picnic area and campfires. Camp Sylvester can accommodate up to 220 guests on its 7-acre property in the Stanislaus National Forest.
For information or reservations call: (209) 965-3172

Lair of the Golden Bear
Lair of the Golden Bear is operated by the Cal Alumni Association as a mountain retreat for University of California, Berkeley, alumni, family, and friends. the Lair of the Golden Bear is divided into three camps: Camp Blue, Camp Gold, and Camp Oski. In Camp Blue and Camp Gold, campers enjoy week long athletic tournaments, striving for highly-coveted Lair trophies at the end of the week. At Camp Oski, campers enjoy a smaller, more intimate camp experience, which includes fewer total campers, tent circle campfires, and fantastic facilities such as a lap pool and sand volleyball. Lair of the Golden Bear offers family camps of various time ranges, adult camps, and an adults only sports and recreation week.
Lair of the Golden Bear is located just west of Pinecrest. The main Camp Blue access road is off Highway 108 while the Camp Gold and Camp Oski access roads are off the Dodge Ridge Road.
Phone: (510) 642-0221
Toll-free: 888.CAL.ALUM (888.225.2586)
Camp Chinquapin
Camp Chinquapin is a Christian camp, a ministry of First Baptist Church of Modesto. The camp is located on the Dodge Ridge Road, not far from Pinecrest. Chinquapin's cabins, recreational vehicle pads and tent areas border the North Fork of the Tuolumne River. The camp is available for youth and children's camps, couples retreats, family retreats, men's and women's retreats and conferences.
Camp Chinquapin has a lodge, a dining hall, central fire ring, amphitheater, and outdoor chapel. It offers a variety of sports activities, including a climbing wall, basketball court, volleyball, tetherball, and horseshoes.
Phone: (209) 965-3223