Sonora Pass Vacations
HOME
Lodging and Camping
Recreation Areas
Outdoor Recreation
Sightseeing:
Events
Services
Winter Activities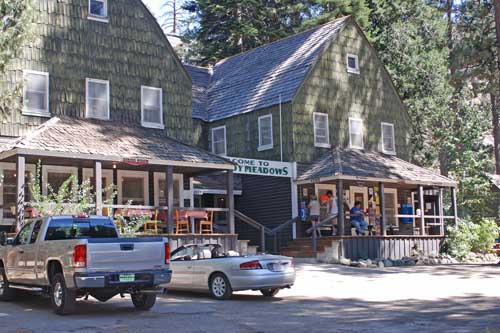 The old Kennedy Meadows Resort
Dardanelle Resort
The Dardanelle Resort was established in 1923 at the convergence of Eagle Creek and the Middle Fork of the Stanislaus River. It is located at an elevation of 5,700 feet 51 miles east of Sonora, CA, on Highway 108.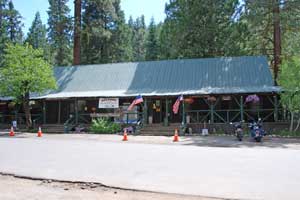 The Dardanelle Resort offers a variety of services for travelers and campers: the Country General Store provides groceries, firewood, ice, fishing supplies. The store is open from 8 am to 5 pm Sunday through Thursday, and 8 am to 8 pm on Friday and Saturday. The Dardanelle Resort restaurant hours vary through summer. Generally they serve breakfast from 7 am to 11 am, lunch from 11:30 am to 3:30 pm, and dinner beginning at 5 pm. The bar opens at 11:30 am.
Dardanelle Resort has rustic housekeeping cabins for rent, motel rooms, and RV sites. Public showers and laundry facilities are available.
More about the Dardanelle Resort.
Gables Cedar Creek Inn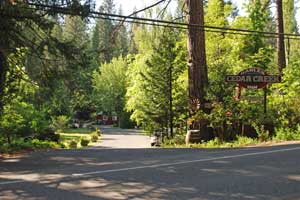 The Gables Cedar Creek Inn is located on Twain Harte Drive in Twain Harte, close to the Twain Harte Golf Club. They offer cabins and a creekside vacation house for rent on their grounds. The Situation Room is a place for guests to relax and read or pool table or watch TV.
Cabins: $$
USA toll free: (888) 900-4224
(209) 586-3008
Gables Cedar Creek Inn

Kennedy Meadows Resort
Kennedy Meadow Resort is 57 miles east of Sonora, situated among towering pines along the banks of the Middle Fork of the Stanislaus River. The resort has been operating there for 90 years. They have cabins for rent, a general store, restaurant, and saloon. The Kennedy Meadows Pack Station is adjacent to the resort.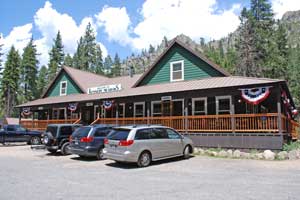 Kennedy Meadow Resort is a popular base for people with a variety of interests, including fishing, hunting, horseback riding, hiking, and just relaxing in the mountain air. Many families have made it a tradition to return for a few weeks every summer. The resort does not handle campground reservations.
Kennedy Meadow Resort opens on the third Friday of April and remains open through the Columbus Day holiday in October. The store sells basic grocery, camping, and fishing supplies.
More about the Kennedy Meadows Resort.
More about the Kennedy Meadows Pack Station.
Lazy Z Resort
The Lazy Z Resort is located on Middle Camp Road on the outskirts of Twain Harte. They have cabins for rent, a clubhouse, and 40 acres of beautiful grounds with waterfalls spilling into a pool. They have facilities for weddings, retreats, and other events.
Cabins sleep from 2 to 8 people. Rates: $$
Phone: (209) 586-1214 or Lazy Z Resort
Long Barn Lodge
The Long Barn Lodge is located in Long Barn, just off Highway 108, 6 miles east of Twain Harte. They offer 20 motel rooms and 8 cabins for rent on their 5-acre site, Rates: $$. Facilities include a swimming pool and BBQ and patio for use in the summer.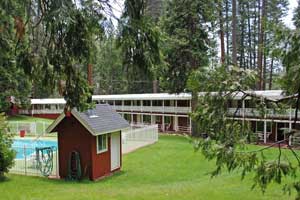 A room which can hold up to 200 people is available for gatherings. They host weddings, family reunions, and parties. Catering is available. The lodge also has conference facilities and an ice skating rink (winter only).
Contact information:
longbarn@goldrush.com
209-586-3533
Toll Free: 800-310-3533
Long Barn Lodge
Pinecrest Chalet
The Pinecrest Chalet, located on the Dodge Ridge Road near Pinecrest, is now owned by the Cal Alumni Association (University of California at Berkeley). The resort is on the banks of the North Fork of the Tuolumne River (little more than a stream here).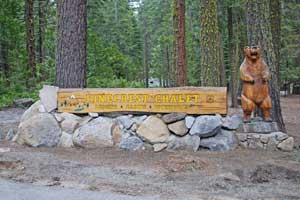 The Pinecrest Chalet offers 1 to 4 bedroom chalets, Rates: $$ - $$$ The chalets have kitchens and televisions, fireplaces, and BBQs.
The Pinecrest Chalet first and foremost is a family-oriented recreation resort. They host ski clubs, church groups, hiking clubs, scout troops, and even weddings. During the summer season, their guests enjoy swimming in a heated pool nestled among the pines. They also offer a year-round fitness center, an amphitheatre, and seasonal basketball, volleyball, and horseshoes. Wi-Fi and coffee service are also complimentary.
For reservations phone:
(209) 965-3276 (9 a.m. to 5 p.m. Monday through Saturday)
Pinecrest Chalet
Pinecrest Lake Resort
Pinecrest Lake Resort is 30 miles east of Sonora at Pinecrest Lake. Because of its proximity to the lake to other recreation venues, Pinecrest Lake Resort is a popular destination for many vacationers, both summer and winter.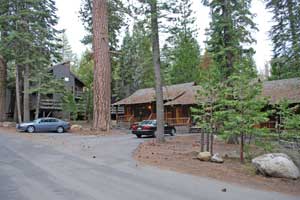 Pinecrest Lake Resort has a variety of lodging facilities available, including motel rooms, cabins, and townhouses. The motel rooms have two queen size beds, televisions, and daily maid service. There are 2 or 3 bedroom cabins. Each cabin has a full kitchen complete with refrigerator, stove and oven, microwave, dishes, utensils and bathroom.
Pinecrest Lake Resort townhouses are available in a two bedroom layout, sleeping six people or with three bedrooms sleeping 8 people, each unit housing one bathroom with a shower/tub combination. Each townhouse is two stories, with sleeping accommodations and bathroom upstairs and living room and kitchen downstairs. Each unit has a full kitchen with a stove, oven, microwave, dishwasher and utensils. Townhouse living rooms are complete with cable television, propane fireplace and couch. All linens and towels are provided.
Nearby facilities include the Steam Donkey Restaurant and Bar, tennis courts, and the Pinecrest Lake Marina.
For reservations call (209) 965-3411.
The Rivers Resort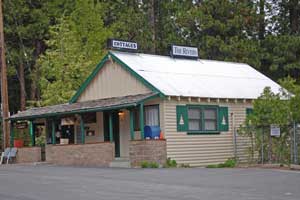 The Rivers Resort is located on Highway 108 in Strawberry next to the Strawberry Store and overlooking the South Fork of the Stanislaus River. They have 10 cabins scattered along 3 acres of forest land. The cabins were built in the 1950s during the TriDam construction project. Most are two or three-story homes with a rustic, knotty pine decor. Most have been remodeled. Many have views of the river.
The cabins come fully equipped with cooking supplies and linens. They have cable TV. They are housekeeping cabins which means that you are expected to clean them upon your leaving, except for the linens. Rates vary by cabin and season, $$ - $$$
Telephone:
(800) 514-6777 or (209) 965-3278
The Rivers Resort
Strawberry Inn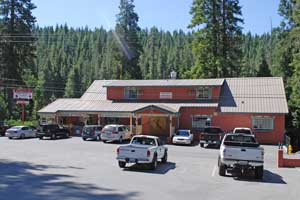 Strawberry Inn is located on Highway 108 in Strawberry. It provides rooms for rent, dining, and banquet facilities. It was established in 1939. Knotty pine, a stone fireplace, and an excellent collection of paintings, sculptures and woodcarvings decorate the Strawberry Inn, providing an accent to an already beautiful setting.
The Strawberry Inn is only a few miles from Pinecrest Lakes, Beardsley Reservoir, Dodge Ridge Ski Area, and Leland Meadows Winter Play Area. The Inn overlooks the South Fork of the Stanislaus River. Rooms Rates: $$
Dining offers tables overlooking the river and at their attached octagonal two-story gazebo.
Telephone:
209 965-3662 - or - Fax: 1-888-315-3096
Strawberry Ridge Retreat
Strawberry Ridge Retreat is located on Old Strawberry Road, about a mile southwest of Strawberry. The main lodge and several dormitories can be rented by groups for 2 nights or more. Facilities include a spacious meeting/all-purpose room, a large industrial style kitchen, four separate sleeping dorms, and two large bathrooms. The lodge is perfect for church groups, scout trips, youth groups, large family gatherings, business team building, or school outings.
The lodge and dormitories can accommodate up to 50 guests. Rates begin at $550 per night for 25 or less guests.
Strawberry Ridge Retreat also offers nearby Lower Pine Cabin for rent, either separately or in combination with the Lodge. The fully equipped 5-bedroom, 2-bath cabin sleeps 11. It has a full kitchen, cable TV, washer and dryer, and BBQ. Rates begin at $270 per night for a two night visit, or $260 per night for a 4 night stay. Weekly rates are $1300.

Strawberry Ridge Retreat
(209) 533-1021 or (916) 396-4461