Sonora Pass Vacations
HOME
Lodging and Camping
Recreation Areas
Outdoor Recreation
Sightseeing:
Events
Services
Winter Activities
Snowmobiling Around Sonora Pass
Snowmobile Trails, Sno-Parks, Maps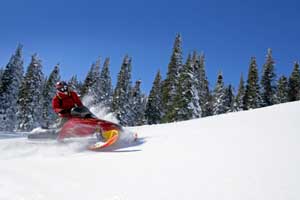 Snowmobiling is a big attraction along Highway 108 in Tuolumne County, California. The Sno-Park at the end of the plowed portion of Highway 108, 6 miles beyond Strawberry, is a favorite launching point for snowmobile enthusiasts. Other locations in Tuolumne County are worth exploring for those on snowmobiles. On the other side of the pass, Mono County offers miles of snowmobile routes across open country.
Winter Safety
Caution should always be taken when venturing out into the back country on snowmobiles during the winter. Sudden changes in conditions, break-downs, accidents, and avalanches are only some of the dangers that snowmobile drivers must consider. The inclusion of a snowmobile route in this guide does not mean that it is safe under all conditions.
Check with the Forest Service before heading out to be sure conditions are safe on the route you will be using.
Always carry emergency gear and a cell phone.
Let a responsible person know where you are going and when you will be returning.
Travel with at least one other snowmobile.
The Eastern Sierra Avalanche Center provides information about avalanche conditions in the eastern Sierra, including Sonora Pass. Visit their website at Eastern Sierra Avalanche Center.
The Sierra Avalanche Center for the Tahoe National Forest, although a little north of Sonora Pass, can provide valuable information about back country snow conditions. You can visit their website at Sierra Avalanche Center.
Snowmobiling on Highway 108 from the Sno-Park
The Sno-Park at the end of the plowed road on Highway 108, 6 miles past Strawberry, is a favorite place for setting out on snowmobiles to explore the Sonora Pass country.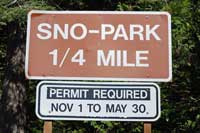 Sno-Parks are parking areas maintained in the winter to allow people to park safely and pursue winter activities such as cross-county skiing or snowmobiling. They have pit toilets available. To use a Sno-Parks you must have a permit. You can purchase a day permit for $5 or an annual pass (Nov. 1 - May 30) for $25. They are good at any California Sno-Park and any Sno-Park in Oregon, Washington, and Idaho. Sno-Park passes from those states are good in California. Limited overnight parking is available.
Passes can be purchased at Sierra Station #40 in Long Barn. Sno-Park passes can also be purchased online for an extra $1.95 at
Sno-Park Permits.
Sno-Park to Eagle Creek
The Stanislaus National Forest maintains a 12-mile groomed snowmobile route along Highway 108 for 5 miles and then up the Eagle Creek Road to Eagle Meadow. The area around Eagle Meadow offers miles of open country for snowmobiling.
Forest Road 5N09
In the Eagle Meadow area the Forest Service grooms the short loop made by Forest Road 5n09.
Sno-Park to Dardanelle
The 13 miles of Highway 108 from the Sno-Park to the Dardanelle Resort are a popular snowmobile route. In many past years the Dardanelle Resort has been open in the winter, providing cabin rentals, restaurant, and other necessities. Recently, however, the resort has been closed in the winter.
Other Snowmobiling Routes on the
Tuolumne Side of Sonora Pass
Herring Creek
A 26-mile round trip route leads out the Herring Creek Road. The first 8.5 miles before the Y leading to Herring Creek Reservoir are fairly tame. Beyond that the road makes 13 mile loop. Along this section that road passes through some steep slopes that are especially vulnerable to avalanche after recent snow. Check with the Forest Service about the advisability of taking this route before heading out. [Virtually all trails are vulnerable to avalanche to some degree.]
Long Barn to Hull Creek
When snow conditions are safe, the 10-mile road from Long Barn leading out to Hull Creek can be exhilarating. Other Forest Service roads crisscross the area.
Mono County Snowmobile Routes
Bridgeport Winter Recreation Area
The Toiyabe National Forest has designated the Bridgeport Winter Recreation Area for use by snowmobilers (and other winter travelers). Snowmobiling is allowed in the Toiyabe National Forest except in Wilderness Areas until about April 15.
A permit is required for winter travel by snowmobile, snowshoe, or ski. You can request permit up to 24 hours in advance Monday - Friday between 8:00 AM to 2:00 PM by downloading and completing the request form. Fax to the Ranger Station where you want to pick up. Your permit can be emailed to you or picked up during business hours at the Ranger Station, after hours will be left in Self Issue Permit Box outside Ranger Station. Advance permits for Saturdays & Sundays must be requested by Friday, as offices are closed weekends. BRIDGEPORT Ranger Station: FAX BWRA PERMIT (760) 884-8199 Hwy 395 1/8 mile south of Bridgeport, CA CARSON Ranger Station: FAX BWRA PERMIT (775) 884-8199
Bridgeport Winter Recreation Area
Parking is available along the shoulder of Highway 108 at Pickel Meadow, outside the No Parking zones. Early and late season parking (space limited) may be between Leavitt Meadows Pack Station and Leavitt Falls Overlook.
A map of the Bridgeport Winter Recreation Area is available on the Toiyabe National Forest website: Bridgeport Winter Recreation Area Map.
Snowmobile Route Crossing Pacific Crest Trail
The U. S. Forest Service has completed plans which allow snowmobiles to cross the Pacific Crest Trail at a location just south of Sonora Pass.
For links to Forest Serivce maps showing snowmobile areas for both sides of Sonora Pass and for crossing the Pacific Crest Trail, see Bridgeport Recreation Area - Permits and Regulations
Snowmobiling on Ebbetts Pass and Carson Pass
Ebbetts Pass

Just a few miles to the north, Ebbetts Pass offers miles of good snowmobiling routes. The most popular are the Spicer Reservoir trail and the Lake Alpine- Highway 4 route. For all the information, visit our sister website
Ebbetts Pass Adventures.
Carson Pass

Carson Pass (Highway 88) boasts four Sno-Parks, with two of them serving at staging areas for snowmobilig. One is found at Iron Mountain where a vast network of trails spreads across the mountain slopes. The other great staging area is at the Hope Valley Snow-Park. For maps and information, see Up and Over Carson Pass.