Where to Play in the Snow along Highway 108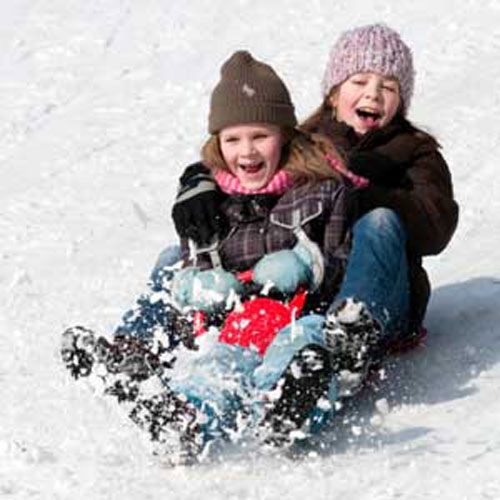 Sno-Parks
Sno-Parks are parking areas maintained in the winter to allow people to park safely and pursue winter activities such as cross-county skiing or snowmobiling. They have pit toilets available. To use a Sno-Parks you must have a permit. You can purchase a day permit for $5 or an annual pass (Nov. 1 - May 30) for $25. They are good at any California Sno-Park and any Sno-Park in Oregon, Washington, and Idaho. Sno-Park passes from those states are good in California.
Passes can be purchased at Sierra Station #40 in Long Barn. Sno-Park passes can also be purchased online for an extra $1.95 at
Sno-Park Permits.
Highway 108, End of Road
Two Sno-Park parking lots (north and south) are set up near the end of the plowed portion of Highway 108 about 6 miles east of Strawberry. Popular activities there are snowmobiling, cross-country skiing, and "limited snow play."
Snow Play Safety
Parking along Highway 108 can be dangerous. Children are often unaware of the danger of passing cars on the highway. Find a place that is well off the road. Keep children away from the highway where cars are passing at high speeds.
Snow Play Trash
Trash left behind by some people who stop along Highway 108 to play in the snow has become a major problem. Some popular areas are strewn with discarded trash by the end of a snow play day. Visitors to the snow should make sure to clean up and take away with them everything they bring, from empty water bottles to broken saucers. We will all enjoy the mountains more if they are clear of trash.
Little Sweden
(Not Recommended)
Little Sweden, the county's first ski resort, has long been a popular sliding hill. Even when the buildings had been long boarded up, winter visitors flocked to the easily accessible hill to slide and play in the snow. In February 2012, the buildings were demolished, but the attraction for winter fun remains.
Little Sweden has several drawbacks that should make visitors look elsewhere for a spot to enjoy the snow. There are no restroom facilities at Little Sweden, and parking along the highway has become a serious problem. Sections of the highway are posted No Parking and the Highway Patrol will ticket those who ignore the signs. If you do choose to visit Little Sweden, make sure you are parked along a legal section of road and off the highway. Other problems at Little Sweden have been people walking out on the highway and the tremendous amount of litter left behind.
Pinecrest
Although there are no obvious good hills for sliding, Pinecrest makes a good place to take small children to play in the snow. The restroom facilities at the picnic area are open all winter.
Dodge Ridge
Use of sleds, saucers, and other sliding types of snow play conveyance are not allowed in the vicinity of Dodge Ridge.
Lower Elevation Snow Play Areas
Parking is often a main consideration when looking for a place to pull completely off the highway and let the kids out to frolic in the snow. Soon after a recent snowfall is usually the worst time to find parking. The best way to increase your chances of locating a safe pull-out is to wait several days after the last snowfall, allowing Cal-Trans a chance to plow.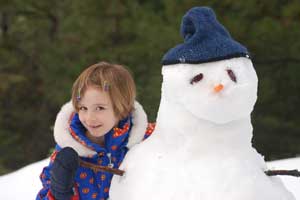 Once you are above Sierra Village you are, for the most part, in the Stanislaus National Forest. The area around the Lyons Reservoir Road has some wide parking areas and some respectable nearby hills. At the same time you are close enough to several small towns to find restroom facilities and a cup of hot chocolate.
Long Barn is another area that often has parking available. Sliding hills can be found nearby, but be sure you are not on private property. Unfortunately, there are no businesses available at Long Barn for restrooms unless you are staying at the Long Barn Resort.
Cold Springs is another place where you could find safe parking. Once again you want to avoid private property, but there are plenty of Forest Service hills nearby. You can use the restrooms at Cold Springs Market if you are also making a purchase there, such as a hot chocolate or a tank of gas.
Snow Play on Ebbetts Pass and Carson Pass
Ebbetts Pass

To the north on Ebbetts Pass you'll find many good places to play in the snow. There are two Sno-Parks, one at Lake Alpine and the other on the Spicer Meadow Road. The cross country ski area at Bear Valley has a sliding hill. To learn more, visit our sister website
Ebbetts Pass Adventures.
Carson Pass

A little farther to the north on Carson Pass (Highway 88) there are four Sno-Parks. For maps and information, see Up and Over Carson Pass.