Dardanelle Resort
Cabins, Restaurant, Store, Gas
Damage from the 2018 Donnell Fire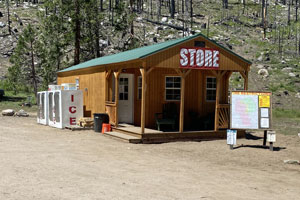 Sadly, the 2018 Donnell Fire destroyed or damaged many parts of the historic Dardanelle Resort. However, the campground and RV park will be up and running for the 2021 season with water, electric, and sewer. The cabins were lost in the fire. The motel survived, but will be used this season for business and staff housing.
Dardanelle Resort has a temporary store and bar open for the 2021 season. Plans are being made to rebuild in the near future.
Evening Ranger Programs - 2021
Beginning June 30, 2021, Stanislaus National Forest Interpretive Staff will be offering hour-long evening programs free to the public every Wednesday at Dardanelle Resort. Programs are appropriate for all ages and will cover topics from history to hydroplogy. No prior registration is required. For more information contact the Stanislaus National Forest at (209) 965-3434. Programs will continue every Wednesday through August 4. 8:00 PM to 9:00 PM.
The Dardanelle Resort BEFORE the Fire
The Dardanelle Resort was established in 1923 at the convergence of Eagle Creek and the Middle Fork of the Stanislaus River. It is located at an elevation of 5,700 feet, 51 miles east of Sonora, CA, on Highway 108.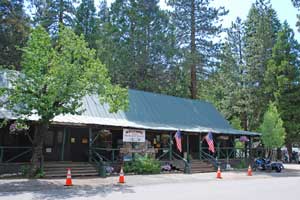 The Dardanelle Resort offered a variety of services for travelers and campers:
Country General Store
Groceries
Firewood
Ice
Fishing supplies
Propane
Dardanelle Resort had
re-opened its gas station
for the 2018 season. Gas is not currently available in 2021.

Dardanelle Resort Lodging BEFORE the Fire
Rustic Cabins
From $149 to $209 per night for cabins. Each cabin is equipped with pots, pans, dishes, coffee pots, toasters, microwaves, utensils, bed and bath linens, BBQ, and picnic table.
Motel Rooms
$89 per night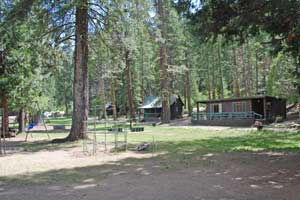 RV Park
$45 per site/per night for each RV.
Most sites have full hook-ups: water, electricity and sewer.
Tent Only Sites $27 per night.
Public showers and laundry facilities are available.
email: dardanelle108@aol.com
phone: 209-965-4275
fax: 209-965-4285
Dardanelle Resort